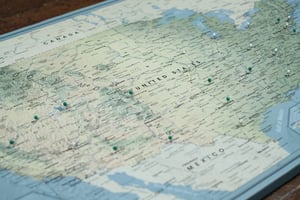 Where We Lend
The Best Hard Money Lenders For Real Estate Investors in 40 States
A hard money loan, bridge loan, or private loan can vary from state to state.
Namely, loan terms such as the lending rate, loan-to-value ratio, and the min/max loan amount depend on conditions in the lending state.
This variance is caused by a combination of regional real estate investing market conditions and state laws related to real estate investment.
For these reasons, nationwide hard money lenders such as ourselves must offer custom terms to suit each region.
Can I Get A Loan Even If I Have Bad Credit?
Great news!
Yes, we can fund a fix & flip investment for you even if you have bad credit.
Hard money lenders pay less attention to credit score than a traditional bank, and your current score has no bearing on whether you can get funding with us.
Loan Types
We've completely designed our hard money lender services around the needs of real estate investors. We are currently offering:
- Low Cash-To-Close Fix & Flip Loans: Our low cash-to-close residential rehab are for single-family residences with a max loan amount of $350,000 or FHA loan limits.
- Traditional Residential Rehab Loan: We can fund your fix and flip with a down payment and lower interest rates than our no money down options.
- BRRR Loans: After you find and rehab a property, we can help you secure a conventional loan with one of our partners who require little-to-no rental history.
- Refinance Loans: We can refinance the loan on your existing property and give you all the money you need to complete repairs needed before selling.
We currently serve 40 states to help you Find, Fund, and Flip Real Estate.
Note: We currently don't serve California, Nevada, Utah, Alaska, Minnesota, North Dakota, South Dakota, Vermont, Oregon, and Hawaii due to legal constraints. We are working hard to solve these issues and hope to offer service in these 10 states soon.